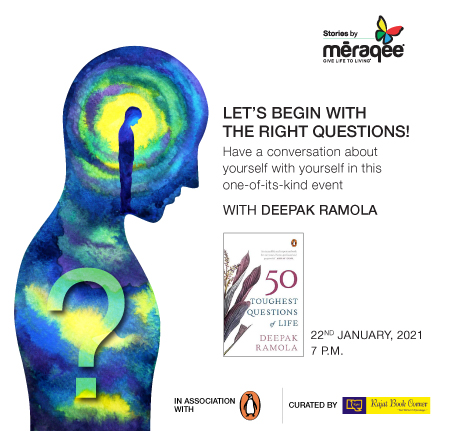 Let's Begin With The Right Questions!
January 22, 2021
12:00 am
Virtual Event
Online 399 /-
We come across many learnings in life – most from ours and many from others. But do we even make an effort to imbibe those learning so we change for the better? Meraqee hosts Deepak Ramola, Founder of Project FUEL, to tell you more about it.
As for the event, once you click on 'Register Now' you not only get a copy of the book that shall be posted to you but a unique zoom link on your email for live interaction with Deepak on 22nd January 2021, 7 pm.
Author Bio
Deepak Ramola is the founder and artistic director of Project FUEL. A TED Talks speaker and UN Action Plan Executor, he serves as the Kindness Ambassador for UNESCO Mahatma Gandhi Institute of Education for Peace and Sustainable Development. His methodology has been recognized among the world's top 100 innovations in education by the Finland-based organization HundreED, and has also been adopted by the education board of Antwerp in Belgium. Ramola is also a celebrated lyricist in Hindi cinema, and his songs have been voiced by Amitabh Bachchan, Farhan Akhtar and Rekha Bhardwaj, among others. His first collection of Hindi poetry, titled Itna Toh Main Samajh Gaya Hoon, received the prestigious Dwarka Prasad Aggarwal Young Writer Award in 2020.
0
---